As the demand for multi-monitor setups continues to rise, it's becoming increasingly common to see individuals, particularly developers, designers, and gamers, opting for these setups to enhance their work or gaming experience. However, with more monitors comes the challenge of finding adequate desk space to accommodate them. Most standard desks simply don't have the size to fit three monitors.
This is where large desks specifically designed for three monitors come into play. The market is overflowing with options, making it challenging to determine which desk to choose. To simplify the decision-making process, we've put together a list of the top 10 best gaming and computer desks for three monitors.
We've taken every detail into consideration, including size, weight, durability, construction quality, material quality, and, of course, price, to bring you the best options available. Our comprehensive review will help you choose the perfect desk to meet your needs and maximize your setup. So, without further ado, let's dive in!
Top 10 Best Desks for Triple Monitor Setup in 2023 for Gamers and Computers
Cubiker Modern L-Shaped Computer Corner Desk
First up, we have the Cubiker Modern L-Shaped Computer Corner Desk. This desk boasts a minimalist style and ample leg room thanks to its open design without big back panels. At 51.1″ x 51.1″ x 29.5″, this corner desk is the perfect size to fit three monitors easily. It's constructed from a combination of metal for the legs and smaller parts, and MDF wood for the desktop. The desktop is made from three pieces – two rectangles and one corner shape – and the MDF boards used are both waterproof and easy to clean, making it a great choice for those prone to spills. Assembly is a breeze, taking no more than 15-20 minutes with proper instructions. The desk comes in a variety of color options, but our favorite is the Natural and Walnut one, which would look great as a desk for an iMac. This desk is sturdy, affordable, and versatile enough to be used for both work and gaming.
Mr IRONSTONE L-Shaped Desk
This desk is a fantastic option for those on a budget who still want a quality computer desk that can accommodate three monitors. From a brand known for its quality gaming and computer desks, this desk delivers both functionality and style. It has an open design, offering ample leg room, and it's compact size makes it perfect for smaller spaces. Despite its lightweight, it's surprisingly sturdy and stable. The modern design and different color options make it a great fit for any room, while the solid construction from P2 MDF board and metal frame make it a durable option. The option with the textured carbon fiber top is especially well-suited for gaming. Assembly is easy, making it a great choice for those who don't have a lot of time or DIY skills.
In conclusion, whether you're looking for an affordable, stylish, or versatile option, our top 10 list has got you covered. So, choose the right desk that fits your needs and start enjoying the benefits of a multi-monitor setup today!
The DESIGNA 60 inch Gaming Desk: A Premium Solution for Triple Monitor Gaming
The gaming and computer desk market is rapidly evolving and it's time to step away from the conventional L-shaped desks and embrace the timeless rectangle-shaped desks. Leading the pack is the DESIGNA 60 inch Gaming Desk, a desk that was designed with gamers in mind but can also serve as a stylish computer desk.
This desk boasts an impressive 60″ x 27″ x 30″ size, making it the largest desk on this list for triple monitor setups. With ample space, you can comfortably fit two monitors, making it suitable for dual monitor setups as well. The desktop features a sleek mousepad that extends the entire length of the tabletop, a thoughtful touch that enhances the overall look and functionality of the desk. Additionally, the desk comes with a rack featuring four charging ports, allowing you to keep your devices powered up while you work or play.
Built with stability, durability, and strength in mind, the DESIGNA 60 inch Gaming Desk features metal legs with adjustable height settings, ensuring a perfect fit for any user. The tabletop is constructed with an environmental P2 particle board, a material commonly used in desks within this price range. The desk also comes with a convenient cup holder and headphone hook, which can be placed on either side of the desk.
With its stylish design, sturdy construction, and ample features, the DESIGNA 60 inch Gaming Desk is a great option for those who want a modern t-shaped desk that can accommodate three monitors. It's not just a gaming desk; it can also serve as a home office desk, a musician's desk, and much more.
Pros:
Stylish design

Strong and sturdy

Easy to assemble, taking only 30 minutes

No cons to note
Also read: Best Dual Curved Monitor Setup for a Seamless Experience
The Elephance 59 inch Corner Computer Desk: A Budget-Friendly Option for 3 Monitors
Next up on the list is the Elephance 59 inch Corner Computer Desk, a desk that combines style, functionality, and affordability. Whether you're working with limited space or have plenty to spare, this desk is designed to fit into your corner, with the option to pair two desks together for a larger setup.
Available in four colorways – beige, black, black oak, and white with gold legs – the Elephance Corner Desk features a minimalist design that is both attractive and practical. Despite its solid metal frame, the desk is capable of supporting weight up to 450 lbs, making it a sturdy choice for any setup. The 15mm thick tabletop is constructed with P2 particle board and is suitable for holding three monitors, with the option to add a stand if desired.
For those working on uneven surfaces or thick carpets, the adjustable leg pads on the bottom of the legs allow for leveling out the desk, while also protecting your floor from scratches.
In conclusion, the Elephance 59 inch Corner Computer Desk is a great option for anyone looking for a budget-friendly, classic L-shaped desk for their 3 monitors. It's an ideal choice for students, those on a budget, or anyone who wants a simple and practical desk for their setup.
Pros:
Affordable price

Spacious design

Sturdy construction

No major cons, with only minor difficulty in assembly noted.
Vari Electric Standing Desk 72″
The Vari Electric Standing Desk 72″ is an electrifying option for anyone in the market for a standing desk. It's one of the most sought-after standing desks on the market, and for good reason. This massive desk measures 72″ x 30″, making it ideal for those who need a standing desk for their triple monitor setup.
Stability is the standout feature of this desk, as it is incredibly stable for its massive size. Although it comes in other sizes, the 72″ model is the perfect option for those who need three monitors. A monitor mount will help reduce any potential wobbles, and the desk can hold its own even at its maximum height of 50.5″.
Built to last, the Vari Electric Standing Desk boasts excellent build quality, with a simple and minimalist design that fits perfectly into any home office. You also have the choice of a variety of finishes, so you can find the one that best matches the style of your workspace. The only downside is that it does come with a higher price tag, but for those in need of a standing desk for three monitors, it's well worth the investment. Assembly is also a breeze, but keep in mind that the cable management tray is an additional cost.
VIVO Electric Height Adjustable 60″ Desk
If you're looking for a more affordable option, the VIVO Electric Height Adjustable Desk 60″ may be the perfect choice. Although it is smaller than the Vari Electric Standing Desk, it still provides a generous amount of workspace with a desktop made from engineered wood.
With electric motors, the VIVO desk can move up to 48.7″ high, with a low setting of 29″. It also has memory presets and reminders that remind you to stand or sit at any time you program throughout the day. While it may have some wobbles at its highest settings, it is still a great option for those on a budget. The desk frame resembles the expensive ApexDesk Elite Series and the Vari Electric Standing Desk, making it feel sturdy and durable, as it is made from steel.
At its price point, the VIVO Electric Height Adjustable Desk is a great choice for those who want to make their workday healthier, but can't afford the more expensive standing desks. Assembly is straightforward and quick, and you can choose from different finishes to fit your style. However, keep in mind that it may not be as stable as some of the more expensive options.
Also read: Best Curved Gaming Monitors for PS5 and PS4 in 2023
VANSPACE 63 Inch Ergonomic Gaming Desk
Gamers, musicians, developers, or anyone in need of a spacious desk for their three-monitor setup, look no further. The VANSPACE 63 Inch Ergonomic Gaming Desk is the perfect solution. With a massive 63 inches in length and almost 30 inches in width, this desk is one of the largest on the market.
Don't let its size fool you, this desk is solid and sturdy, featuring a robust support structure and adjustable feet to keep it stable on uneven surfaces. The frame's construction and materials used make it capable of holding up to 300lbs of weight, making it ideal for housing 3 22-inch monitors.
The VANSPACE desk comes with all the standard features you would expect from a gaming desk, including a cup holder, headphone hook, gaming handle rack, and a large, waterproof, and scratch-resistant mouse pad. The only downside is the assembly process, which can take up to a couple of hours. However, once assembled, you will be left with a desk that is great value, sturdy, and has fantastic looks.
Stand Steady Tranzandesk 55 In Desk
For those who prefer to work while standing, the Stand Steady Tranzandesk 55 In Desk is the perfect option. This affordable standing desk is 55 inches in size and comfortably fits 3 monitors, making it the ideal solution for those who experience back pain from prolonged sitting.
The desk features a shelf on top of the tabletop, where you can place your monitors. With numerous health benefits, standing desks are becoming increasingly popular, and this one is no exception. It may not have a motor, but the height can easily be adjusted with a crank located on the right side. The desk feels solid and stable, and the assembly process takes no more than half an hour. For those seeking an affordable and sturdy standing desk, the Stand Steady Tranzandesk 55 In Desk is highly recommended.
Rolanstar L-Shaped 54 Inch Computer Desk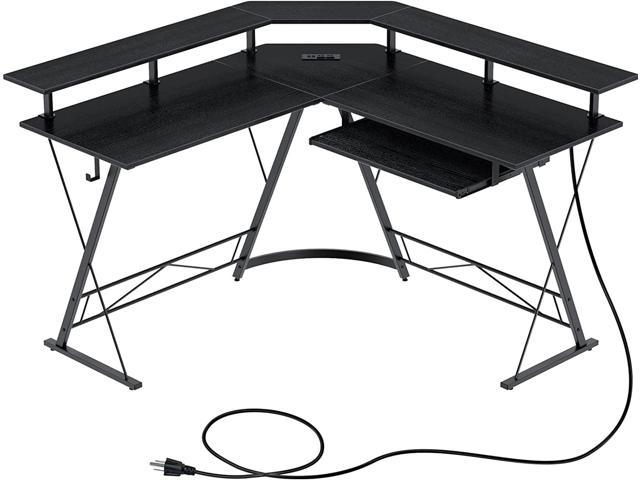 The Rolanstar L-Shaped Desk is an excellent choice for those who require a dark-brown l-shaped desk for their multi-monitor setup but are on a budget. This desk offers several top-notch features, including an anti-scratch desktop made of fiberboard, a monitor stand that enables you to elevate your monitors and free up more desk space, and a built-in power strip and headphone hook, which are typically found on gaming desks. Additionally, the desk is highly durable, made with a stainless steel frame that can comfortably support multiple heavy monitors.
This desk is a beautiful addition to any industrial-style home office, with its sleek and stylish design. And at such an affordable price, it's hard not to recommend this desk.
Features:
54 Inch L-Shaped Computer Desk

Sturdy stainless steel frame

Elevated monitor stand

Built-in power strip and headphone hook
Pros:
Elevated monitor stand offers additional desk space

Built-in power strip and headphone hook

Sturdy and durable construction
Cons:
Bestier L-Shaped Computer Desk: The Perfect Solution
At the end of our list, we have a unique and exceptional computer desk from Bestier. The desk is l-shaped and measures 59.45″ x 59.45″ x 32.28″, but it can be adjusted to a long 92″ desk, making it perfect for two people to use. This desk features a retro-style desktop made of P2 particleboard and three cable management trays on the corners to keep your cords organized.
Assembly can be a bit challenging, but the end result is well worth it. This desk offers great quality and ample space for both legs and storage. And with the added bonus of a monitor stand, your setup will not only be organized but also visually appealing.
Features:
59.45″ x 59.45″ x 29.13″ l-shaped desk

Can be adjusted to a long 92″ desk

Three cable management trays

Made of P2 standard board and metal x-frame
Pros:
High-quality wood material

Spacious design

Offers three configurations
Cons:
Assembly can be complicated
Whether you're looking for a desk for your home office, gaming setup, or shared workspace, the Rolanstar L-Shaped 54 Inch Computer Desk and the Bestier L-Shaped Computer Desk are both excellent options to consider. With their sturdy construction, ample space, and stylish design, you'll have a desk that will support your work and elevate your décor.
Also read: Can All-In-One Computer Be Wall Mounted? A Comprehensive Guide
Frequently Asked Questions:
What is an ideal size for a desk with a three-monitor setup?
To accommodate three monitors and accessories with ease, you should opt for a desk that is at least 1.4 meters wide and has a depth of 90 centimeters. This setup is commonly used by gamers and professionals who work on complex tasks.
What size desk should I choose for three 27-inch monitors?
Keep in mind that the monitor screen will stick out a few inches from the desk's edge. Therefore, a tabletop depth of at least 27 inches, and preferably 29 inches, is recommended for typing and productivity.
Can a standing desk support three monitors?
Yes, it can. The weight capacity of a standing desk should be sufficient to support three monitors. Just make sure to check the specifications of the specific standing desk you have in mind to confirm it can accommodate your setup.