Are you looking for the perfect motherboard to take your Intel Core i7-12700K to the next level? Whether you're a hardcore gamer or a content creator, you need a motherboard that can handle the workload without any hiccups. That's why we've done the research for you, and have compiled a list of the best motherboards to help you get the most out of your processor.
We've evaluated numerous motherboards from top brands like Asus, MSI, and Gigabyte, and have carefully selected the top four based on their performance, features, and overall value. We understand the importance of finding a compatible motherboard, which is why we recommend looking for an LGA 1700 socket, specifically designed to support Intel's 12th Generation desktop processors. Plus, make sure to choose a motherboard that supports DDR4 or DDR5 RAM to ensure efficient data processing and gaming.
But that's not all – these motherboards come with a range of advanced features to take your build to the next level. With advanced cooling systems, multiple PCIe slots, and support for high-end components like NVMe SSDs, you can customize your rig to fit your unique needs.
So why wait? Check out our list of top motherboards and power up your rig today!
Best Motherboards For Intel Core i7:
The Asus ROG Maximus Z690 Hero is a powerhouse designed to handle even the most demanding tasks. It boasts 90-amp power phases and backwards compatibility with LGA 1200 CPU coolers, making it a reliable choice for any build. The board also features PCIe 5.0 support, DDR5 and DDR4 support, and Twin Thunderbolt 4 ports, making it perfect for gaming, content creation, and overclocking.
Asus ROG Strix Z690-E Gaming WiFi
For those in search of a gaming-focused motherboard, the Asus ROG Strix Z690-E Gaming WiFi is a great option. It has multiple PCIe M.2 sockets, plenty of USB ports, amazing audio, and easy GPU access. The board also features onboard WiFi 6 and 2.5Gb LAN connectivity, making for a smooth online gaming experience.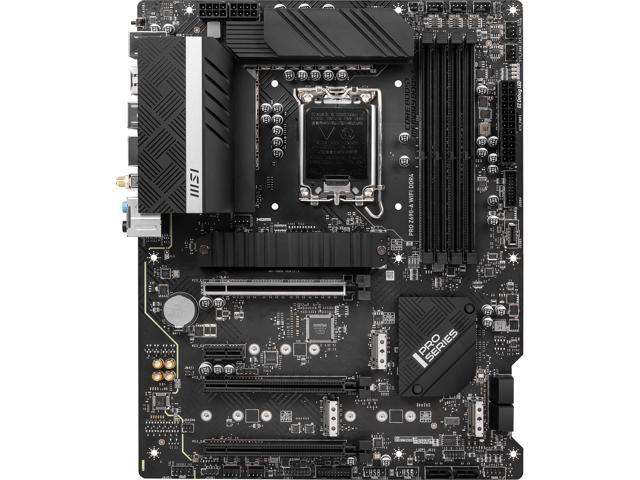 If you're on a budget but still want great performance, the MSI Pro Z690-A DDR4 is an excellent choice. It features a LGA 1700 Socket, 5600 MHz DDR4, and a premium thermal solution, making it perfect for budget-conscious overclockers and gamers.
Lastly, the MSI MPG Z690 Carbon D5 is another great option, featuring an amazing design and capable cooling system. It has five M.2 slots and 20-phase voltage regulators, making it a solid mid-range option. Although it lacks PCIe 5.0 support, its attractive price point more than makes up for it.
Also read: Best Motherboard CPU Combos for Gaming in 2023
Analysis and verdict:
When building a PC, choosing the right motherboard is critical. Failing to do so can result in poor performance, overspending, and a system that is not optimized for your needs. Fortunately, we have compiled a list of recommendations for various budgets and use cases to make the process easier.
If you're looking for the best high-end motherboard, the Asus ROG Maximus Z690 Hero is the one to beat. This top-of-the-line motherboard boasts the best components and specifications available in its price range, providing the ultimate gaming and computing experience. However, if you're on a tighter budget, the MSI Pro Z690-A DDR4 and MSI MPG Z690 Carbon D5 are excellent options. While they may not have all the features of the Asus ROG Maximus Z690 Hero, they still deliver exceptional performance and value for their price point. Keep in mind that you may have to compromise on certain features, such as DDR5 or PCIe 5-gen, but these motherboards are still great choices straight out of the box.
Frequently Asked Questions:
Is the i7 12700K overkill for gaming?
It depends on the level of graphics card you have. If you have a 3050/6600XT level graphics card, then the i7 12700K might be overkill. But if you have a 6700XT/3070 ti or better, then it isn't overkill.
Which motherboard is best for i7 12700K?
For the best motherboards to pair with the i7 12700K in 2023, here are some top picks:
Best Overall Motherboard For i7-12700K: ASUS ROG Z690-E
Best Overclocking Motherboard For-i7 12700K: GIGABYTE Z690 AORUS Tachyon
Best Budget Motherboard For i7-12700K: MSI Z690-A PRO WIFI
Best Mini-ITX Motherboard For i7-12700K: Gigabyte Z690-I AORUS Ultra
Which generation of Core i7 is best for gaming?
One of the best processors for gaming in 2023 is the Intel Core i7 11700K. It boasts a base clock speed of 3.6 GHz and a boost clock speed of 5 GHz. With eight cores and sixteen threads, these processors offer excellent gaming performance.
Which motherboard is the best for gaming?
Asus ROG Maximus Z690 Hero – the best motherboard for gaming
MSI Pro B660M-A – an Intel motherboard on a budget
Gigabyte X570 Aorus Xtreme – an amazing AMD motherboard
Asus TUF Gaming X570-Plus (Wi-Fi) – a cheaper AMD motherboard