The gaming industry is abuzz with excitement as Intel and AMD release their new ranges of CPUs, while GPU prices continue to fall. If you're planning on building your own gaming PC, it's important to choose the right CPU cooler to keep your system cool and performing at its best. With so many options available, it can be a daunting task to pick the best CPU cooler. In this guide, we've put together a list of our top picks for the best CPU coolers in 2022 – both air and liquid options.
What is a CPU Cooler?
CPU coolers come in two categories: air and liquid. An air CPU cooler comprises a heatsink and a fan. The heatsink, which is made of aluminum fins, sits on top of the CPU. The fan connects to the heatsink either vertically or horizontally and pulls air through the fins to dissipate heat. A liquid cooler, on the other hand, has a block on top of the CPU, a pump, and a thermally conductive fluid that moves around a closed loop of tubes. The tubes connect to a radiator that pushes hot air out of the case, and the pump draws heat from the CPU and repeats the cycle.
Factors to Consider:
The price of a cooler can vary, but selecting a thermally efficient cooler is important. Other factors like case airflow, ambient room temperature, and average CPU load also play a part in determining the best cooler for your system. Generally, the more powerful your CPU, the better the cooler you will need.
Air vs Liquid CPU Coolers:
Choosing between an air and liquid CPU cooler can be confusing. Liquid coolers are very safe because they come pre-filled and sealed off. They also offer better heat distribution and are quieter. However, they can be expensive and have a larger form factor. Air coolers, on the other hand, are more affordable and have a smaller form factor. They can be a bit louder, but they still provide solid performance.
Our Best RGB CPU Coolers
Are you looking for the best CPU cooler for your gaming or workstation PC? Look no further! Our team has handpicked the top-performing and visually appealing CPU coolers that strike a balance between thermal performance, value for money, and aesthetics. In this article, we present our top recommendations and provide an overview of their features, so you can choose the perfect match for your CPU. Additionally, if you are unsure about which CPU cooler to pair with your processor, we've got you covered with our Best CPU and Cooler Pairings guide.
Cooler Master Hyper 212 RGB Black Edition
If you're in the market for a reliable air cooler that won't break the bank, Cooler Master Hyper 212 RGB Black Edition is a great option. This cooler comes with a full-tower heatsink, four heat pipes, and an easy-to-install RGB fan. Plus, it supports both Intel's 12th Gen CPUs and AMD's Ryzen AM4 socket. You also get a simple LED controller to customize lighting without any software. Overall, this cooler offers excellent value for money.
Cooler Master MA612 Stealth ARGB
For those seeking an air cooler that is both stylish and efficient, Cooler Master MA612 Stealth ARGB is an excellent choice. With six heat pipes and Cooler Master's Dual SickleFlow fans, this cooler keeps your CPU cool and quiet. The asymmetrical heat pipe design makes it compatible with various motherboards and RAM configurations. The added RGB lighting and the all-black finish make it a great-looking cooler that doesn't cost a fortune.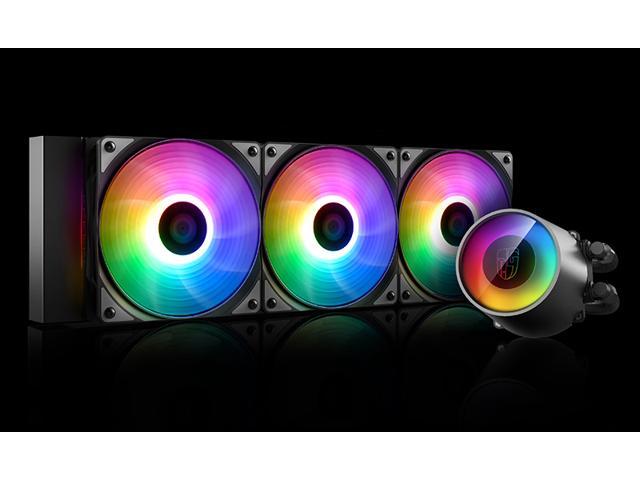 DeepCool Castle 360 RGB is a liquid AIO cooler that offers maximum efficiency and cooling performance. Thanks to DeepCool's Anti-leak Tech, the cooler maintains an automated pressure balance that ensures optimal heat distribution. The cooler features a 360mm radiator and a 2550 RPM fan that provides great airflow. With 16.7 million fully addressable RGB color options, this cooler also offers the ultimate aesthetic customization for your build.
Cooler Master MasterLiquid PL360 Flux
With a max RPM of 2300 and a 360mm radiator, this cooler is designed for high-performance rigs. It features a dual chamber pump and a sleek radiator design for super cooling. Plus, it's rated to max out at 32 decibels, making it an extremely quiet option. The Flux series fans are specifically designed for increased air pressure and visually stunning lighting effects, making this cooler a must-have for any gaming setup.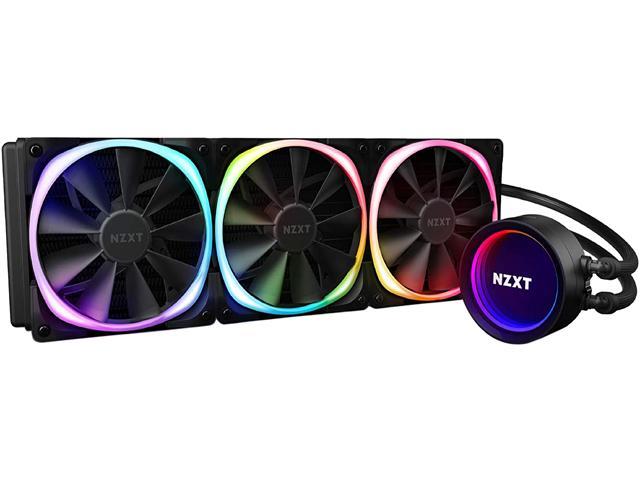 Next is the NZXT Kraken X73, which has been featured in our most recent builds. It comes with a beautiful RGB LCD display that syncs up with NZXT's Cam software, giving you endless options to customize the lighting of your build. The 360mm radiator will provide ample cooling for any powerful builds that want to stay cool and quiet.
Corsair iCUE H150i Elite Capellix
Finally, there's the Corsair iCUE H150i Elite Capellix, which we consider one of our favorite coolers. This AIO features an interchangeable pump cap with stylish and glossy Corsair Capellix LEDs that bring incredible lighting. The centrifugal pump generates less than 20dBA, which means extreme cooling with low noise. This cooler has pretty much anything you can ask for and is ideal for any high-performance CPU you can throw at it.
Frequently Asked Questions:
Q: What is the best RGB CPU cooler for Intel?
A: Some of the best CPU coolers for Intel and AMD processors include the Dark Rock 4, Cooler Master Hyper 212 RGB Black Edition, Noctua NH-L9 series, and MSI MEG CoreLiquid S360.
Q: Which is the best CPU cooler?
A: The best CPU coolers in the market today include the Noctua NH-D15, Cooler Master Hyper 212 V2, Corsair iCue H100i RGB Pro XT, Corsair iCUE H60i RGB Pro XT, Noctua NH-L9i, Noctua NH-P1, Cryorig H7, and be Quiet! Dark Rock Pro 4.
Q: Does RGB give better FPS?
A: Yes, RGB lighting can give you better FPS performance than standard TV. RGB can produce more colors quickly, and with a longer lifespan, it can provide better and faster frame rates.
Q: What RGB is best for gaming?
A: Gaming is all about being immersed in the game's world and experiencing its mood. When it comes to RGB lighting, cool colors like blue, green, and purple are best for generating a cool ambiance that complements the gaming experience. So, if you're looking to create a cool vibe, go for these colors.