For gamers who own Nvidia GPUs, having a monitor equipped with G-Sync technology is a must. This feature ensures a seamless gaming experience by synchronizing the refresh rate of your display with the frame rate of your games, eliminating stuttering and screen tearing.
However, with a wide range of G-Sync gaming monitors available, it can be difficult to find the right one. It's important to consider the level of G-Sync certification and to separate the great FreeSync gaming monitors that work with AMD's video cards.
Don't worry, we've done the research for you!
Here Are our Top Picks for the Best G-Sync Gaming Monitors of 2023
Budget-Friendly Option: Asus VG248QG
If you're looking for a smooth gaming experience without breaking the bank, the Asus VG248QG is a great choice. This ergonomic 23.8-inch monitor is the successor to the popular Asus VG248QE, offering 1080p, 165Hz, and a TN panel for a price under $200. While it may not have the largest display or top-of-the-line capabilities, it's a significant improvement from the standard 24-inch, 60Hz office monitors.
The VG248QG is G-Sync compatible and supports a refresh rate between 1Hz and 165Hz using the DisplayPort connection, preventing screen tearing. The HDMI port doesn't support G-Sync, but there's native FreeSync for AMD graphics card users. With a speedy response time and low input lag, you'll get a smooth and responsive gaming experience. The downside is that the image quality and viewing angles are not the best, but for budget-competitive gaming, motion clarity is key.
1440p Beauty: Alienware AW2721D
The Alienware AW2721D is a fantastic gaming monitor that nearly dethroned the Viewsonic XG270QG. Its 27-inch, 1440p display boasts a solid contrast ratio and deep blacks for an IPS panel, along with local backlight dimming and excellent brightness and color performance.
This monitor is Nvidia G-Sync Ultimate certified and supports G-Sync at any refresh rate between 1Hz and 240Hz on the DisplayPort, with HDR support. The two HDMI ports only support 144Hz, but you'll still enjoy smooth gameplay. The HDR support, while not the best on the market, adds a nice touch to the already excellent image quality.
The Alienware AW2721D stands out with its unique look and class-leading build quality, including customizable RGB lighting through AlienFX software and two USB Type-A ports for wired gaming peripherals. Whether you're a casual or competitive gamer, the AW2721D is a great choice.
Also read: Best Dual Curved Monitor Setup for a Seamless Experience
Asus ROG Swift PG32UQ
The Asus ROG Swift PG32UQ is a 32-inch, 4K monitor that offers excellent image quality and color performance. With a 144Hz refresh rate, 1ms response time, and G-Sync Compatible technology, this monitor provides smooth and lag-free gaming. However, it has limited connectivity options with only two HDMI and one DisplayPort.
Samsung Odyssey G7 27-inch
Samsung Odyssey G7 27-inch offers the best of both worlds, with both AMD FreeSync and Nvidia G-Sync compatibility. This monitor boasts a 1440p resolution, 600-nit peak brightness, and 10-bit color depth, delivering exceptional frame rates and vivid visuals. The aggressive curve and stylish design add to the immersive gaming experience.
Alienware AW3821DW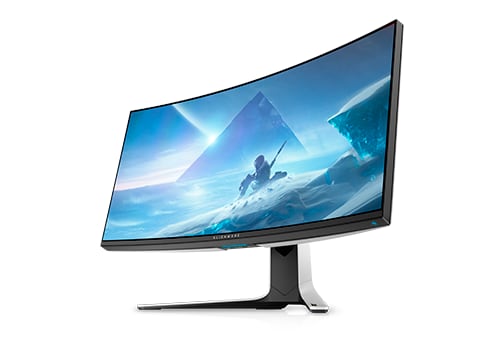 The Alienware AW3821DW is a great ultrawide gaming monitor that offers a high resolution and G-Sync Ultimate support for smooth, stutter-free gaming. It has decent color performance, a high maximum brightness, and HDR600 support. The monitor has a slight curve to wrap the games around your field of vision and offers an adjustable stand for comfortable viewing angles. The build quality is outstanding, but the monitor is massive and only offers two USB ports.
Asus ROG Swift PG32UQX
The Asus ROG Swift PG32UQX is an ultra-premium and expensive monitor that offers G-Sync Ultimate support, making it the best choice for those who want to make the most of G-Sync technology. It has a 4K resolution and supports HDR, making it the best HDR gaming monitor currently available. The monitor has a Mini-LED backlight that sets a new standard for contrast ratio and dark scene performance, and its peak brightness is insane. The build quality is outstanding, and it even has a tiny secondary screen to display information like GPU system temperatures or current framerate.
Also read: Best Curved Gaming Monitors for PS5 and PS4 in 2023
How To Choose a G-Sync Gaming Monitor For You?
When searching for a G-Sync gaming monitor, it's crucial to understand the different G-Sync standards available. Nvidia offers three options: G-Sync Ultimate, G-Sync, and G-Sync Compatible.
G-Sync Ultimate and G-Sync are equipped with a dedicated hardware module, known as a G-Sync chip, inside the display. This chip synchronizes the monitor's refresh rate with the output from your Nvidia video card, resulting in smooth and evenly-paced gameplay, even if the game's framerate dips. The added bonus of G-Sync Ultimate is that it provides additional image quality standards such as HDR and wide color gamut support. However, this does not enhance the motion performance compared to standard G-Sync.
On the other hand, G-Sync Compatible monitors do not have a G-Sync module and instead use the open VESA Adaptive Sync standard. This standard is widely used among various monitors, leading to lower prices. However, keep in mind that the VESA Adaptive Sync standard only supports refresh rates of 40Hz or higher, and some G-Sync Compatible monitors have even higher minimum refresh rates. This means that G-Sync may not function optimally if the frame rate drops below the minimum supported refresh rate. Nvidia maintains a database of all certified G-Sync and G-Sync Compatible monitors and their specifications.
While the downsides of G-Sync Compatible monitors are not often encountered in practice, it's important to note that there may be issues if the game's frame rate exceeds the monitor's refresh rate. This can typically be addressed with a frame rate cap. Most G-Sync Compatible monitors are certified to work at a refresh rate of at least 48Hz, ensuring smooth gameplay at 48 frames per second or higher.
In conclusion, if you want smooth and hassle-free G-Sync performance in every game, regardless of the frame rate, it's best to opt for a monitor with G-Sync or G-Sync Ultimate.
Frequently Asked Questions:
Does G-Sync improve gaming?
The answer to this question largely depends on the type of games you play and the specifications of your setup. If you play fast-paced games such as first-person shooters or racing games, you will likely notice a significant improvement with G-Sync. However, if you play games that are more methodical such as real-time strategy games or turn-based games, the benefits of G-Sync may not be as noticeable.
Are G-Sync monitors superior?
It depends on your individual needs and preferences. If you prioritize low input lag over tearing, then a monitor equipped with the FreeSync standard might be the better choice for you. On the other hand, if smooth motion without tearing is your priority and you're comfortable with some input lag, then a G-Sync monitor would be a better fit.
Are curved monitors better for gaming?
Curved monitors can provide a more immersive gaming experience as they bring the sides of the screen closer to your field of view. This design creates a more panoramic and enveloping visual experience.
Is G-Sync better than FreeSync for gaming?
G-Sync dynamically adjusts its refresh rate to match the frame rate of the game, offering a smooth, tear-free gaming experience. However, it is important to note that the monitor's frame rate is still limited, much like it would be without G-Sync.
Do professional gamers use G-Sync?
It's a common misconception that professional gamers don't use G-Sync. While it's true that many of them don't activate G-Sync during gameplay, many do have G-Sync monitors. The reduced input lag offered by G-Sync compared to vsync is attractive for many professional gamers, though it's still not as low as vsync off.
What are the drawbacks of curved monitors?
One potential drawback of curved monitors is that you need to sit directly in the center to get the optimal viewing experience. Sitting off-center can result in distorted images, and others sitting in front of the monitor may not have the best view.